BELOW ARE SOME DESIGNS BY OUR MEMBERS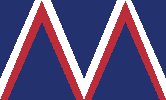 NAVA 34 Meeting (2000)
6-8 October 2000
Lansing, MI, USA
Flag designed by John Purcell
18th International Congress of Vexillology
NAVA 33 Meeting (1999)
28 July-2 August 1999
Victoria, BC, Canada
Flag Designed by Truman G. Pope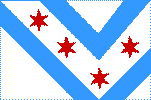 NAVA 31 Meeting (1997)
10-12 October 1997
Chicago, Illinois, U.S.A.
Flag Designed by John M. Purcell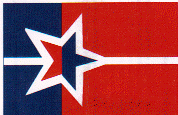 NAVA 23
Oct. 20-22, 1989
Dallas, Texas (U.S.A.)
Flag Designed by John Purcell
John Purcell
The black and yellow colors come from the generic Irish Purcell coat-of-arms (a black saltire on a yellow field, with a couped boar's head in each of the four resulting quarters). I abandoned the basic shield design for 7 vertical counterchanged vertical stripes of purple and yellow for the 7 letters in Purcell. The rather unattractive boars' heads were changed to black isosceles triangles suggestive of the heads' original shape and color. The flag is 4:7. Black triangles measure 1 2/5 units (both legs of the right angle) in a square of 1 unit each side.
Pam and Larry Fast
The Fast family came from Germany to America and there is a raven on the family crest so we used that to represent Germany and it is on the fly side.
The eagle is on the hoist side.
The total of 17 stars is because Ohio is the 17th state.
We took the colors from the American flag.
<![if !vml]>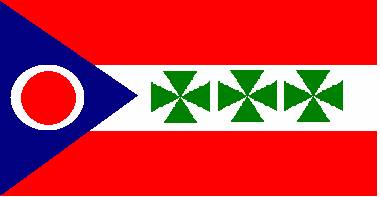 <![endif]>©Bill Belanich, Jr
William Belanich, Jr.
The colors and symbols of this flag have various meanings. My Irish and German heritage is reflected in the use of green and red. Green is a traditional national color of Ireland and is found in the Irish tricolor flag. Red is one of the traditional German national colors and is found in the modern German tricolor. My Slovenian and Croatian heritage is symbolized through the use of red, white and blue—the traditional pan-Slavic colors found in the national flags of both Croatia and Slovenia. One may also observe that the use of three horizontal band of red/white/red evokes the flag of Austria. My Croatian and Slovenian ancestors lived under the rule of the Austro-Hungarian Habsburgs before immigrating to the United States. Loyalty to my country and my native state is embodied by the use of red, white and blue—the colors of both the United States of America and the State of Ohio. The inclusion of a blue triangle containing a red "O" with white fimbriation along with horizontal stripes of red and white are meant to directly reflect the flag of the state of Ohio in which my family has lived since the 19th Century. The three green Maltese crosses in the white horizontal stripe are a stylized representation of the banner of Kings Ferdinand and Isabel, the Catholic Monarchs, carried to the New World by Christopher Columbus. The use of three crosses reflects the Trinity as well as the three ships which brought Columbus and the Catholic faith to the New World. These symbols from Spanish history reflect my interest in the Spanish language.
Members send in your designs
to have them posted here
NAVA Flag images © NAVA
Personal flags © The Individual