FLAGWAVER

JOURNAL OF GREAT WATERS ASSOCIATION OF VEXILLOLOGY
June, 2000 Vol. V, No. 1, Issue 9
GREAT WATERS CAPITAL CITIES:
The Flag of Springfield, Illinois
(5th and final in the series)
The Capital city of GWAV's new constituent state has a flag with a dark blue field. On the hoist half of the field is a circle of 20 white stars, representing the number of states entering the union before Illinois. In the center of that circle is a large red star with a larger white border, denoting that Springfield (red) is the capital of Illinois (white), the twenty-first U.S. state. Currently the flag also has the words SPRINGFIELD ILLINOIS in gold capital letters across the bottom of the field. An earlier photograph of the flag in the Springfield Journal (May 14, 1953) does not show any lettering. Also, the large central star, now shown with one point oriented to the top, has one point oriented toward the bottom in the 1953 photo. Official proportions are 2:3 or 3:5.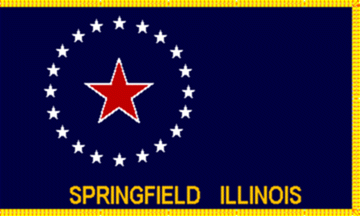 Springfield's flag was designed by S.T. Wallace in a contest conceived by Vachel Lindsay and sponsored by the Springfield Art Association. City Council adopted the flag on October 22, 1917, and first exhibited it on November 8, 1917.
(JP) Thanks to Mildred Baumann, Reference Librarian at the Lincoln Library of Springfield, May 26, 1962, and to Ernie Slottag of Springfield City Hall, April 4, 2000.
© 2000