FLAGWAVER

JOURNAL OF GREAT WATERS ASSOCIATION OF VEXILLOLOGY
December, 1999 Vol. IV, No. 2, Issue 8
"Mad" Anthony Wayne: His Name Reflected in GWAV Flags
Part 2: City Flags: Fort Wayne, Indiana
Today's Ft. Wayne can trace its history to a principal village of the Miami Indians near the Present city's site. The French organized Ft. Miami as a trading post in the 1680's, but were later replaced by the British, who captured the fort in 1760 and occupied it briefly until 1763 when the Indians repossessed the land during Pontaic's Rebellion. Finally, Gen Anthony Wayne recovered the territory for the fledgling United States in 1794, and established the fort that bore his name and subsequently the name of the city that grew up around it.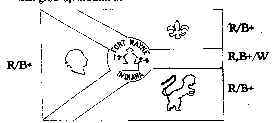 The city flag of Ft. Wayne (Fig. 1) reflects its varied history as well as its geography. The dark blue field of the flag is dissected by a white Y-shaped figure positioned horizontally so that the top of the Y extends from both corners of the hoist, and it bottom bisects the flag. This figure represents the confluence of the three rivers in the center of the city; the St. Joseph (top hoist), the St. Mary 's (bottom hoist), and the Maumee (fly). At the center of the Y's three lines is a white circle, in the center of which, in red, is a block house to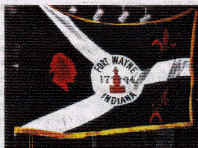 represent the original Ft. Wayne. Above the block house, in block letters around the circle's circumference, appear the words FORT WAYNE; below, in similar fashion, the word INDIANA. Centered on the hoist side of the circle beside the block house is 17, and on the fly side, 94, all letters and numbers in dark blue. In the blue area of the hoist is centered, in red, a silhouette of a male Indian head, with one feather, in profile facing the fly, recalling the early Indian settlement. In the top blue area is a red fleur-de-lis, commemorating the French, and below it, in the lower blue fly, a red lion, rampant, facing the fly, to represent the British. (Fig. 2)
Ft. Wayne's flag was designed by Guy Drewitt, the winner of a contest, in 1916. His design (not available for inclusion here) is described as a blue field with a white Y and two small white stars (position unspecified). This design was apparently used until 1934, when at the suggestion of a local citizen, he modified the flag to the present design. The flag was officially adopted in 1934. (JP)
From an undated letter written to the citizens of Ft. Wayne, ca. 1963, by the mayor at that time, Harold S. Zies.
© GWAV 1999