JOURNAL OF GREAT WATERS ASSOCIATION OF VEXILLOLOGY
June 2009 Vol. XIV, No. 1, Issue 27

HAMMOND, INDIANA'S FLAG RECALLS
ITS NATIVE AMERICAN HERITAGE

Mayor Edward Dowling of Hammond, Indiana, requested Anthony Betustak to design a city flag in 1963. Betustak researched the city's history for eight years, continuing his commission with the approval of Dowling's successor, Mayor Joseph E. Klein. Betustak presented his design to the Common Council, which adopted it on February 9, 1971.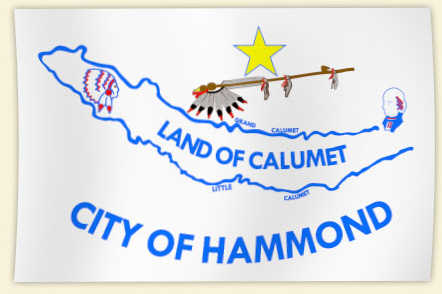 The flag has a white field. Curved from the upper hoist to the central fly are depicted the outline of the Great Calumet River above that of the Little Calumet River, in light blue. The rivers are actually identified in very small capital letters in the same color, along their respective shores. Between the rivers, and following the same curved pattern, are the words LAND OF CALUMET, in light blue capital letters. Also between the rivers' outlines, at the hoist side, is the profile of a Native American chief, in war bonnet, in light blue with red details, facing the fly. On the fly side, where the outline of the Great Calumet River ends, is the profile of Father Jacques Marquette, in light blue with red detail, facing the hoist. Centered above the Great Calumet River outline, and slightly slanted from center to upper fly, is a calumet peace pipe in rd with gray and brown detail. Centered directly above the peace pipe is a five-pointed gold star, finely fimbriated in light blue, and positioned on the field slightly off-center toward the fly. At the bottom of the field, and curved in a semi-circle generally following the curvature of the rivers' outlines, is CITY OF HAMMOND in light blue capitals that are larger than the letters between the rivers.
According to Betustak, the elements are all symbolic. The red, white, and blue colors suggest those of the US flag, while gold and blue suggest those of the Indiana flag. The gold star commemorates the wars that the US has engaged in, while its blue fimbriation denotes all those who served in the wars. "Calumet" is a French-Canadian word meaning "pipe," or "peace pipe" (the complete term is calumet de paix). It is apparently derived from the name of a Menominee Indian Village lying on the east shore of Lake Winnebago in what is today's Wisconsin, and said to mean "peace" in the Menominee language. The Native American figure represents the first explorer to pass through the area occupied by today's Hammond, while Father Marquette arrived thereon approximately March 31, 1675, having been sent by his superiors to explore the western Great Lakes area. At the time the region was controlled by France. Hammond itself was incorporated in 1884.  (JP) From minutes of the Hammond Common Council.