Chesapeake Bay and Great Waters
Hold Second Joint Meeting
After the success of their first joint meeting in May, 2008, the Great Waters Association of Vexillology and the Chesapeake Bay Flag Association met for their second joint meeting November 13-14, 2010, at historic West Virginia Independence Hall in Wheeling. During the Civil War, the building was home of the Restored Government of Virginia and the Wheeling Convention which led to the creation of the State of West Virginia. The structure was erected in 1860 as the US Customs and Courthouse and the meeting venue was the courtroom where the Virginia Ordinance of Secession was rescinded and the new Constitution of West Virginia was drafted in 1863.
After a tour of the restored facility by curator Travis Henline, Bill Belanich, designer of the NAVA 44 flag who was unable to attend the meeting in Los Angeles, was presented with a 3x5 foot version of the flag. CBFA member Peter Ansoff gave a presentation entitled No Primary Reference: The Flag of the Sons of Liberty. He was followed by fellow CBFA members Dale Grimes, Jr. who spoke on World War II Navy Flags Made on Mare Island and Christopher Maddish who presented Vexillological Coincidences of the Northern Blue Seal States. In the evening, the attendees had dinner at the Metropolitan Citi Grill.
On Sunday, the venue moved to the McLure Hotel and after a continental breakfast, GWAV member Bill Belanich addressed The New Zealand Flag Controversy, David Breitenbach gave an overview of Michigan City Flags, and John Purcell talked about Colors and Controversy: The Flags of Our 50 States (How Our States Got Flags and Why It Took So Long). Kudos go to meeting organizer John Purcell, and Peter Ansoff, who provided and operated the audio-visual equipment for both sessions

Our first joint meeting between
GWAV and The Chesapeake Bay Flag Association.
Saturday and Sunday May 3-4, 2008
Pittsburgh, PA

Hosted by GWAV in INDIANAPOLIS, INDIANA
October 8 - 10, 2004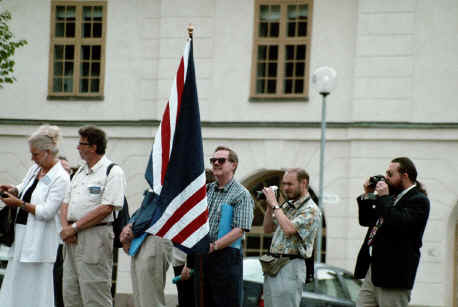 John Purcell with the GWAV flag in Stockholm, Sweden at FIAV 2003.

GWAV'S 10th ANNIVERSARY

Attendees at GWAV's 10th anniversary
May 2001
Muncie, Indiana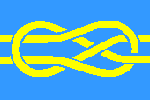 GWAV ACCEPTED
INTO FIAV
DATELINE: Victoria, British Columbia, Canada, August 2, 1999
The Great Waters Association of Vexillology was accepted as a member of the International Federation of Vexillological Associations, known by its French acronym, FIAV.
President Peter Kinderman presented GWAV's application, and spoke on its behalf to the assembly. With the announcement of the vote in favor of our membership, Peter unfurled the GWAV flag as a symbol of our new status.
Presentation of GWAV flag after acceptance into FIAV.